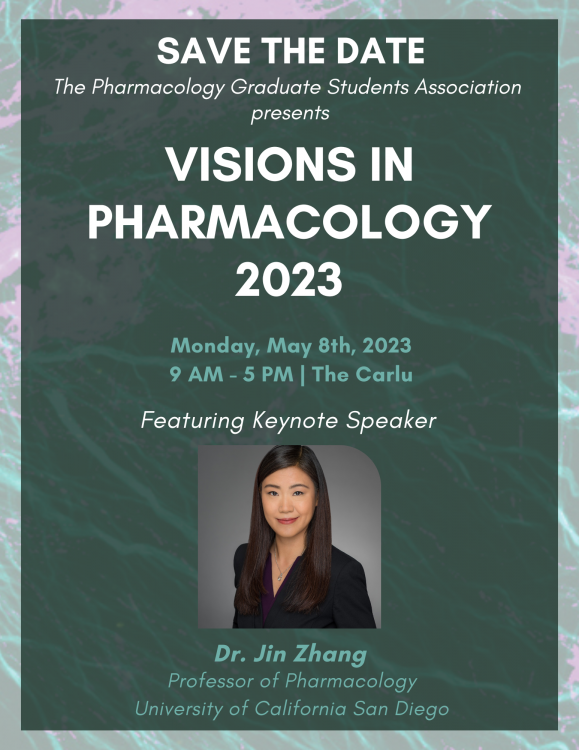 Dear trainees, postdocs, staff and Faculty,
Save the date! We are excited to announce that Visions in Pharmacology (VIP) Research Day 2023 will be taking place on May 8th, 2023 at The Carlu! Our keynote speaker this year will be Dr. Jin Zhang (UCSD). Event registration and poster abstract submission is now open! 
We look forward to seeing everyone at VIP2023!
About our speaker:
Dr. Jin Zhang received her PhD in Chemistry from University of Chicago in 2000. After completing her postdoctoral work in the laboratory of Roger Tsien at UC San Diego, she joined the faculty of Johns Hopkins University School of Medicine in 2003. She was promoted to Professor of Pharmacology, Neuroscience and Chemical and Biomolecular Engineering in 2013. In 2015, she moved back to UC San Diego and is currently Professor and vice Chair in Department of Pharmacology. She is also a member of the Moores Cancer Center and an Affiliate Professor in Departments of Bioengineering and Chemistry & Biochemistry at UC San Diego. She co-directs the Center for Cell Signaling San Diego with Dr. Alexandra Newton. Research in her lab focuses on developing enabling technologies to probe the active molecules in their native environment and characterizing how these active molecules change in diseases including cancer. Dr Zhang is a recipient of Biophysical Society Margaret Oakley Dayhoff Award (2009), NIH Director's Pioneer Award (2009), John J. Abel Award in Pharmacology (2012), Pfizer Award in Enzyme Chemistry (2012), NCI Outstanding Investigator Award (2015 and 2022), Novartis Global Scholar Award (2021), Robert R. Ruffolo Career Achievement Award in Pharmacology (2022) and the Protein Society Christian B. Anfinsen Award (2022). She was elected as a Fellow of the American Association for the Advancement of Science (AAAS) in 2014, a Fellow of the American Institute for Medical and Biological Engineering (AIMBE) in 2019 and a Fellow of American Society for Pharmacology and Experimental Therapeutics in 2021 (FASPET). Dr. Zhang also received UC San Diego Chancellor's Award for Excellence in Postdoctoral Scholar Mentoring in 2019 and Outstanding Graduate Student Mentoring Award in UC San Diego Jacobs School of Engineering in 2022. Dr. Zhang will be receiving the Carolyn Cohen Innovation Award from the Biophysical Society in 2023.
Oral Presentations:
Dr. McPherson will reach out to eligible students who could give oral presentations. Once confirmed, Dr. McPherson will provide the VIP Organizing Committee with a list of approved students. We will reach out to those students from visionsinpharmacology@gmail.com to obtain information/abstracts about their talks. We kindly ask that those students provide us with their abstracts by Friday, April 14th at 11:59 PM. Please follow the guidelines provided regarding affiliations and (if possible) the structured abstract format.
Poster Presentations:
If you are presenting a poster at the event, kindly register and SUBMIT YOUR ABSTRACT HERE by Friday, April 14th at 11:59 PM. Please follow the guidelines provided regarding affiliations and (if possible) the structured abstract format. If you would like a poster template, feel free to download the one linked here. If you want to print your poster, feel free to use any of the following suggestions (or other places if you wish):
Important Information for Award Recipients from this Academic Year:
If you would like us to spotlight you in the booklet and/or in the slideshow at the event, please email us at visionsinpharmacology@gmail.com with your award name and a headshot by Friday, April 28th at 11:59 PM.
Important Information for Those Interested in Judging Presentations:
If you are a faculty member, postdoc, staff, or a senior PhD student and are interested in judging oral and/or poster presentations, kindly SIGN UP HERE by Friday, April 28th at 11:59 PM. We will provide you with a judging package, which will include the link to the judging rubric and presentation assignments, closer to the date